Non c'è niente da fare, quando si tratta di guerra noi europei siamo i migliori. Hai voglia gli americani a dire che sono una superpotenza con un complesso militare-industriale senza eguali: di guerre serie non ne hanno mai ospitate (la loro guerra civile è paragonabile a un paio di giorni della guerra polacco-moldava del 1497), in quelle mondiali sono arrivati sempre in colpevole ritardo, e adesso, quando gli serve una guerra, la organizzano dall'altra parte del mondo, di solito in Medio Oriente, dove comunque basta tirare un raudo o dire porcatroia troppo forte per dare il via a un conflitto decennale.
La mia analisi politica la rivendico in pieno (…) - l'Isis sta combinando un'ecatombe e nessuno di loro ha aperto bocca. Anche su Israele. Io li ho visti i missili che piovono dal cielo, non sono petardi (…) Si può discutere sulle proporzioni della reazione israeliana, ma è innegabile che anche i laburisti l'abbiano approvata. Il conflitto lo ha iniziato Hamas. La mia domanda è questa: perché vedete solo Israele? (…)
Pacifismo a senso unico e giustizialismo hanno fatto male alla sinistra. È chiaro che il Pd di Matteo Renzi ha posizioni più equilibrate e qualcuno a sinistra non lo digerisce. (…)
Il fatto che qualcuno abbia sdoganato la parola sionista come insulto. Il sionismo è una dottrina nobilissima, paragonabile al risorgimento italiano. Non ha niente di razzista, è socialisteggiante. Invece ormai l'antisemitismo c'è ma si maschera dietro l'anti-sionismo.
Daniele Nahum - P.D. Milano - Insultato e minacciato dai pacifinti de sinistra
dopo avere appoggiato Israele
sui social network.
Ecco un altro "filosofo"…
Quelli che:
- "il nemico del mio nemico è mio amico!"  [sent from iPhone]
- "Ma saresti tra i primi a cui tagliano la testa!"
- "Sofista!" [sent from iPhone]
Sure, Hundreds of thousands of people are being murdered and going through an ethnic cleansing in Syria, Iraq, Afghanistan, North Korea, Ukraine and Sudan - but hey! theres a war going on in Israel right now and some palestinians were killed while being used as human shields by Hamas, so of course the "evil Zionists" are the "New Nazis"! how can you not see it???? and of course we will go & protest against the zionists and not against all those terror organizations who control middle eastern countries because they are muslims and the Zionists are Jews! #ProPalestiniansLogic
(via gayzionist)
"fenomeni radicali come l'Isis sarebbero da approfondire con calma e rispetto."

(…) e se gli sparo in fronte o nel cuore
soltanto il tempo avrà per morire
ma il tempo a me resterà per vedere
vedere gli occhi di un uomo che muore

e mentre gli usi questa premura
quello si volta, ti vede e ha paura
ed imbraccia l'artiglieria
non ti ricambia la cortesia…
Questa simpatica sagoma che "imbraccerebbe un'arma" é il capo dell'organizzazione "umanitaria" che ha spedito in Siria le due cretine. 

Scrive "se potessi". In realtà poteva benissimo, ma poi sai, il cagotto…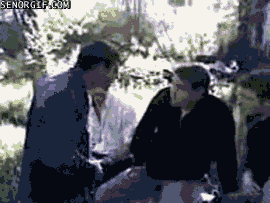 Gente di popò.